CREATIVE PROCESS

To begin devising the performance, Maya and I started by creating character profiles. We knew we would have two subsets of characters:

the one experiencing vs the external forces/emotions being experienced



In this process,

we brainstormed our personal experiences (unique & mutual) throughout lockdown and grouped them into categories of overarching emtoins.

For example: getting stuck abroad, pets passing away, family members/friends getting ill, picking up new creative hobbies, educating ourselves (re: black lives matter), online learning, etc.We broke down these experiences based off how they made us feel in the moment. We narrowed it to:

PANIC:

the fear of uncertainty.

CONFUSION:

losing all control over our circumstances & lifestyles.

DEATH/GRIEF:

the death of a loved one (friend, family, pet), but also greiving the loss of our lifestile and our routine.

TIMESTOP:

the extended period of lockdown which allowed us to explore new hobbies, learn new skills, but also being trapped within a form of unproductivity as everyday turned into the same trapped repetition.

REGROWTH:

the aspiritation and optimism that we would come out stronger as individuals, communities, and socieities after this.

It is important to note that we did not want this piece to be a complaint letter about being in lockdown nor a woe-is-me sulking about our first-world troubles.

Our conceptual take was to investigate the psyche in lockdown as a self-reflection for audience members and ourselves in the making process.

It was very important for us to include the emotional phase of REGROWTH. Although we struggled with his immensly because at the time of developping our ideas, we were in the second-wave lockdown and the university had shut down again. This turned into a productive exercise for us to remain optimistic and productive.

Our fifth character is

The Experiencer, the individual that represents us all being stuck in the cycle of emotional phases.

I first created moodboards for each character: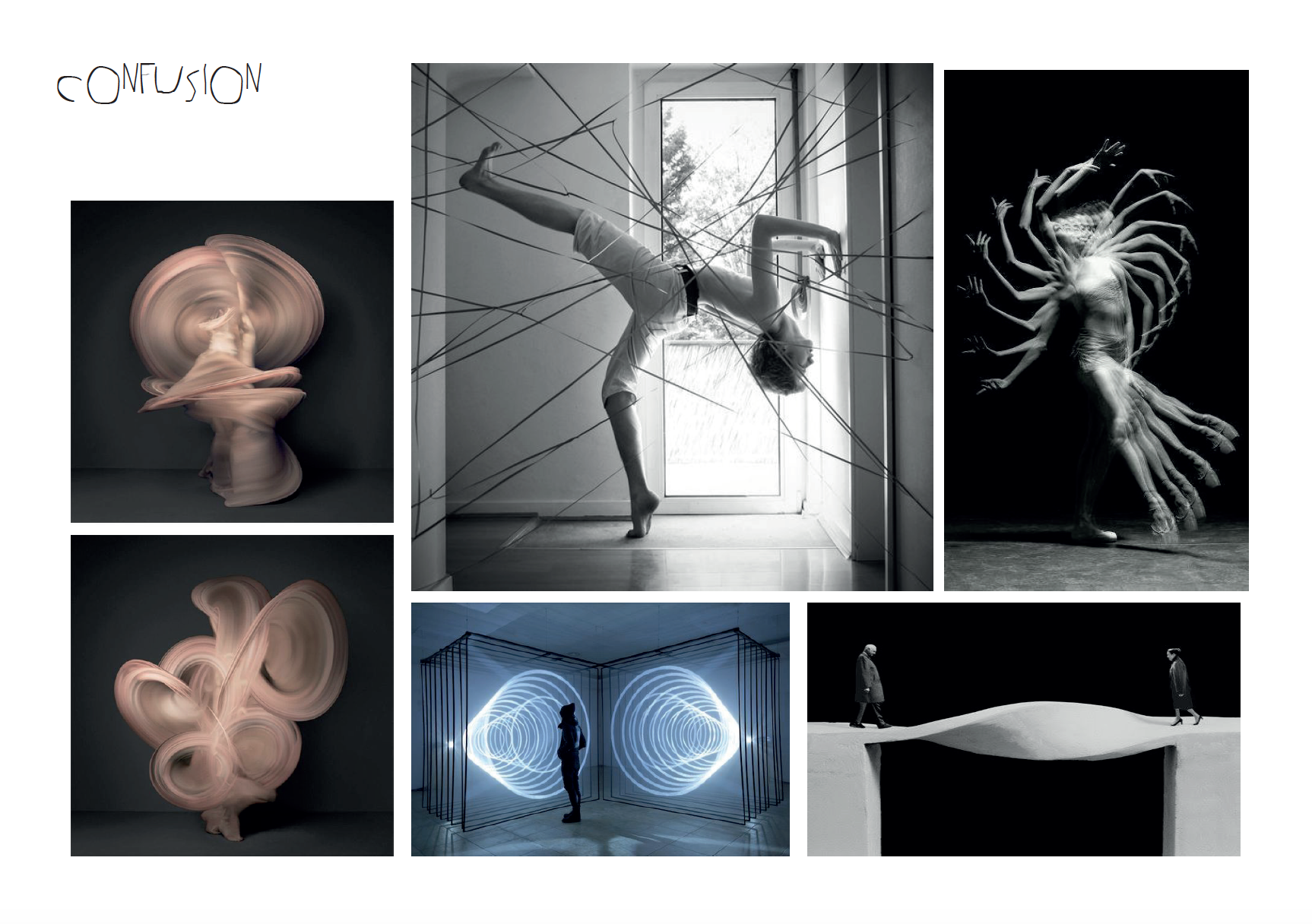 We also set out with creating a brief for the structure of the piece, which we called The Cycle. This was a loose guide to help us communicate the idea with the collaboraters we were pitching it to. We knew this was bound to change once the other collaborators inserted their experiences into the devising process.

I wanted to make it clear that this process and narrative were based entirely on interplay and interaction. By allowing the process to be reactionary, I hoped that it would be an effective mode of working to hone in on how this was based on ongoing lived experiences. We were not yet out of lockdown and making this in hindsight. We were making this while still reacting to the uncertain circumstances around us.

At this point in the process we also looked back on the visual research and decided to take the multi-media approach in order to create a distinct contrast in the visual dramaturgy between the Emotional Phase characters and The Experiencer. The Emotional Phases would appear as projections to highlight that they were not tangible elements The Experiencer has control over. This was also to play around with scale in the physical vs digital presence.

On another note, the decision to have the projections was also for two practical reasons: to limit our cast number for safety of covid bubbles & in the case that we would not be able to stage the performance, we could at least have some pre-recorded content and turn it into a film.

We also wanted to make the characters more distinct. We decided that the Panic phase was almost a hybrid of grief & confusion, so we abandoned that character.


COSTUME DESIGN
Now that we had confirmed the characters: CONFUSION, GRIEF, TIMESTOP, and REGROWTH, I went back and did some more visual research to develop my costume designs. This included: Issey Miyake, Iris Van Herpen, Antony Gormley, Oskar Schlemmer, Alexander McQueen. Below are some of my costume moodboards and some initial response sketches.
Upon first instinct, most of the images I was attracted to for CONFUSION, DEATH/GRIEF, and TIMESTOP, were black & white which was actually influenced by my earlier research on Gilbert Garcin. I felt that compositionally, the starkness was evokative and direct since these characters would be filmed as projection content. I also wanted to visualise a contrast between those three more "negative" characters and our ultimate journey to REGROWTH to make the shift to optimism more profound and visually prominent.

In hindsight, I wish I had done more making experimentation, but I was stuck abroad and did not have much access to my materials or space, so I experimented through drawing only. However, I was able to do a small crochet sample which I was happy with.

When I began sketching costume ideas, we hit a snag in the dramaturgy. I had been interpreting the character as DEATH while Maya had been interpreting it as GRIEF. So in my initial sketch, it was a visual depiction of a death to show the pain. But we discussed and realised that we were going for GRIEF because it evoked the weight of the emotion much more powerfully. It was a more transferrable way of communicating the pain in that feeling.

Before beginning a process with the choreographer, I wanted to have the costume designs ready in order for their movement to be a reaction to the designs. This was always intended to be a design-led process, so I felt confident when first pitching the idea to Isaac (Zac) Irvine, for him to be aware of the potential restrictions of the body. Bringing Zac into the process was ideal for the design-led devising approach because he works improvisationally.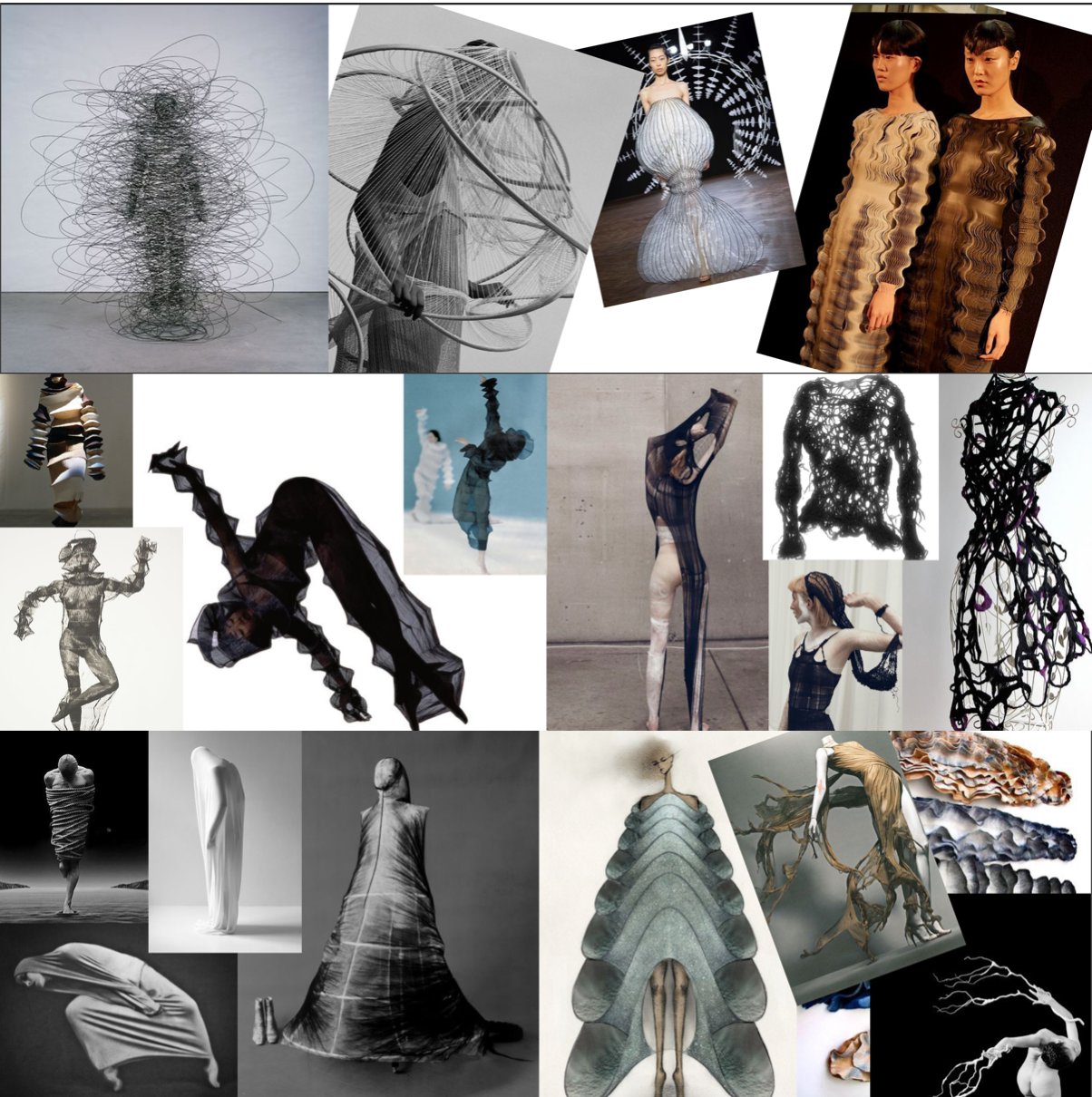 In the designs, I also created a distinction between CONFUSION, DEATH/GRIEF, and TIMESTOP all having forms of restriction to the body versus REGROWTH accentuating the flow of the body.
Confusion is inspired by Antony Gormley's wire scultpures.
Grief is inspired by Frieder Grindler's candle composition.
Timestop is inspired by my personal lockdown hobby, crochet, & fragmentation.
Regrowth is inspired by textural layering to show how we evolve from the accumulated past.

SPATIAL DESIGN
It was really difficult to develop the set design because I could not experiment in a space, and I felt that I needed more elements of the choreography & sound design to properly start designing the space. Now that I had hit a wall, my priority was to begin collaborating on the choreography & sound. Kristina Kapilin joined the team. I wanted to work with Kristina because from what I heard of her compositions, they are layered soundscapes which create an atmosphere. This was vital in getting Zac to respond through movement and for me to begin imagining how the space would come to life. In the collaboration with Kristina, she worked from the character profiles to create distinct soundtracks for each emotional phase, while composing them in a way where they could be layered to create The Cycle. In fact, her sound design compositions actually were the deciding factor for the structure of the piece because of how she imagined they flowed together.
As we started to rehearse some movement ideas, this inspired my exploration for the spatial design. I picked up from where I left off in my research on kinetic sculptures. I was inspired by Olafur Eliasson's artwork to create a
whirlwind shape with kaleidoscopic effect.
I made a sketch model from paper,tape, markers, and a torch to experiement with
how the
light & forms could transform the atmosphere.
I also experiemnted with creating a sketch model using found objects and digitally manipulating it to
create different planes, refractions, and layering of a space.
While these brief ideas were helpful for getting some hands-on experimentation, they did not inspire me further because
I felt they were too distracting and convoluted for the visual dramaturgy.
Upon reflection, I realised that we were moving towards multi-media and the projection being the focal point of our visual dramaturgy.
So I wanted to focus my research towards that.
I began looking at how to create multiple layers in a space & research through drawing.
I was also interested in visualising the isolation we experienced in lockdown by creating a space within a space that encapsulated The Experiencer while having the projections external to that, but still infiltrating through the narrative & choreography.


I was really drawn to this fabric rigging & manipulation because I felt that it has a dynamic contrast compared to the angular & geometric projection screens.
It's more lucid and comforting.
My initial set design proposed a sheer fabric capsule which contained a rigged kinetic sculpture made of metal & gels to create a kaleidescope as it started turning. In the downstage, projection screens would fly in & out throughout The Cycle.
When discussing this idea with my collaborators, it was directly apparent that there was too much going on. Once the sound design was coming together and the choreography was being experimented with,
I realised that some of the elements I was trying to address in my spatial design were already being dramaturgically answered in other forms. We definitely needed the projection screens, and visually the idea of the fabric tied in more effectively than the kinetic sculpture.
Holistically, the sculpture felt like an after thought aesthetically. When discussing with my personal tutor, I also realised it was not feasible considering I had 4 costumes to make, projection mapping, Isadora programming.
I also wanted to experiment with simplifying the movement of the set. Rather than the screens flying in & out repeatedly, I was more intrigued by how the space could be alive. I did some experiments with the rigged fabric (which was an old cyc re-purposed from the Platform Theatre). Through playing in the space, I came to the effect of breathing using the cyc, which I thought would fit with the sound design and react to Zac's choreography.


Additionally, I knew I would have limited budget (most of which was going to costume) so I wanted to rely on what I could find in the Platfrom Theatre to create my set.
I also found a black sharkstooth gauze (which I had discovered the material during my Abu Ghraib project), and felt it would be the perfect addition as a threshold between the projections & the experiencer.
I also found existing frames I could use as projection screens and fabrics that I could build my own screens with. This was my second set design proposal, which stuck.
We reduced to 3 screens because of the throw of the projector being narrower than anticipated. This also solved a dramaturgical issue with REGROWTH's appearance: we would have REGROWTH permeate all 3 screens taking over The Cycle.